MINIMIZE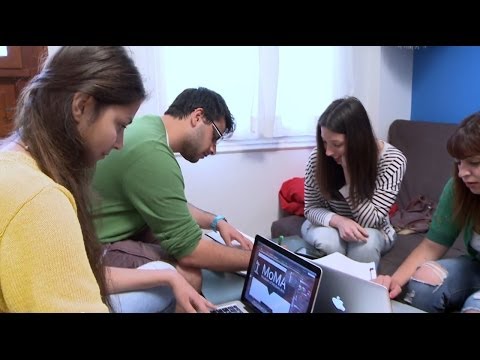 WATCH THE VIDEO
MUSEO: THREE-DIMENTIONAL TOURS IN MUSEUMS
The students of the Department of Product and Systems Design Engineering of the Aegean University, design products and are being challenged through their participation in competitions.
In the framework of the 5th semester University course, 'Analysis and Design of Information Systems', a group of students, urged by their professor, designed a pilot application and figured out how its structure would be and how it would interact with the user.
The stimulus for this initiative was the sense that an overwhelming majority of people during their visit to a museum does not deepen in the substance of exhibits, thus making their visit a subordinate experience.
The students assess their overall experience positively at both cognitive and personal level.
Development of applications & information systems with emphasis on design
THE MUSEO APPLICATION
The Museo pilot application offers an interesting touring experience in museums. It enables user participation not only to voice-guided tours in the area, but also to a three-dimensional interactive experience which takes advantage of smartphone functionalities.
In addition, in order to facilitate the user's visit to the museum, it provides the possibility of issuing electronic tickets and releasing information about the museum, its exhibition calendar, as well as the opinion of other visitors about it.
A key difference between Museo and other museum applications, is that it is a product designed with the visitor of the museum as an end user and the museum itself as a potential buyer with respect to the needs of both.
Taking advantage of smartphone functionalities, combined with the very well-designed and proper interface use of the Museo application, a highly entertaining experience is gained while visiting a museum.
Imagine Cup, 2013
The 'Museo' application was designed by four undergraduate students of the Department of Product and Systems Design Engineering of the Aegean University in Syros.
It excelled in the competition organized by Microsoft Corporation, in 2013, winning the first award in the field of innovation.