MINIMIZE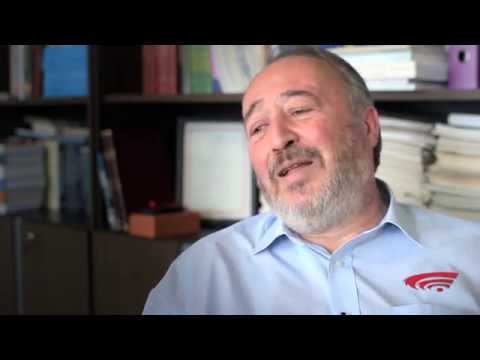 WATCH THE VIDEO
LONG-TERM RESEARCH AND COMPUTER SCIENCE
With the term "long-term research", Professor Paul Spirakis from the Department of Computer Engineering & Informatics, School of Engineering, University of Patras, refers to the research whose results are transformed into tangible and applicable products over time. This is the kind of research which is actually capable of leading science to the next level and can offer insight into the future developments, while it is often the case that it involves few but highly qualified researchers.
Computer science is a scientific area with accelerated developments but sometimes not towards the essential promotion of the entire field.
For the area of computer engineering, long-term research has got, therefore, added value and by all means Greece, according to Professor Paul Spirakis, should continue to invest in it.
Among the 50 leading scientists worldwide in Computer Science
"The best Nurturers in Computer Science Research", published by B. Kumar and Y.N. Srikant, ACM Data Mining, 2005.
PROFESSOR PAUL SPIRAKIS AND COMPUTER SCIENCE
Paul Spirakis graduated from NTUA in 1987 as an Electrical Engineer and received his Ph.D. from Harvard University (1982) in Computer Science. He was a researcher at Harvard, Assistant Professor at New York University (NYU) and professor at the Computer Engineering and Informatics Department of the University of Patras since 1990 and Department Chairman for 6 years. He is the Director and Senior Researcher of the Computer Technology Institute & Press «DIOPHANTUS» since 1996 (on sabbatical leave since 2013) and holds a chair at the Department of Computer Science of the University of Liverpool in UK, since 2013.
He has received a great number of prizes and grants (e.g. from the National Science Foundation) and the First National Prize of the Greek Mathematical Society. He is one of the vice-presidents of EATCS (European Union Council for Theoretical Computer Science) and also a distinguished visiting researcher at Max-Planck Institute for Informatics. In 2005, he was recognized among the top 50 scientists all over the world in Computer Science, according to "The best Nurturers in Computer Science Research". He was a National Representative of Greece at the IST/ EU and he was a member of ISTAG, a great group of 40 specialized professionals who advise the European Community in research policy issues.
His research interests lie in the areas of Algorithms & Complexity and their relation to the Theory of Probability as well as to the Foundations of Parallel and Distributed Systems and Networks. An important part of his recent work focuses on Algorithmic Game Theory and Algorithms for Modern and Alternative Networks. Furthermore, he is an expert on Computer Network Security and in the analysis of Computer Systems Performance.
He has published twelve scientific and textbooks and many research papers in his field. He is an advisor to the Greek State.
INTERNATIONAL RECOGNITION
In 2014, Professor Paul Spirakis received the award "EATCS Fellow 2014", awarded for the first time by EATCS to distinguished scientists for their significant contribution in Theoretical Computer Science.
Another important distinction has been the invitation, in 2010, by European Science Academy Academia Europaea to Prof. Paul Spirakis, to become a member. This was the first time that a Greek Computer Scientist was invited to join the European Science Academy.
Professor Paul Spirakis is also a member of the European Council of the Association for Computing Machinery (ACM Council Europe). Additionally, he was awarded the First National Prize of the Greek Mathematical Society, he is one of the EATS vice-presidents (Council of the European Union in Theoretical Computer Science) and he has been honored with many other awards and sponsorships.
During the 40th anniversary celebrations of the journal Theoretical Computer Science, section A, held at the ICALP / LICS conference in Kyoto, Japan on 6-10 July 2015, Professor Paul Spirakis was named its new Editor-in-Chief.
SEE ALSO...
Discussion about Game Theory with Prof. Paul Spirakis.
Population protocols, Randomness and Balance.