MINIMIZE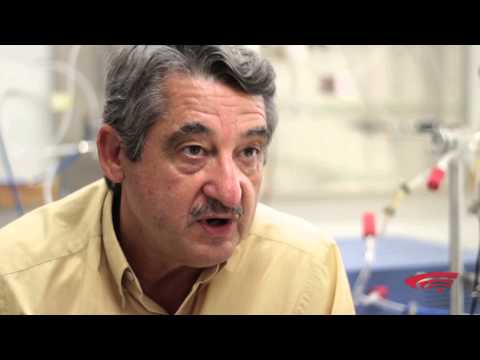 WATCH THE VIDEO
USING NANOTECHNOLOGY TO IMPROVE AIR QUALITY
Recent studies have documented that the adult population in developed countries and especially those who live in cities, spend 90% of their time indoors, living, working or entertaining themselves, with the breathing air being less clean than they believe.
Taking into account the very important social problem of the indoor air quality, and having as their main aim to tackle the problem, the team of Transparent Conductive Materials, with the co-financing of the European Union (FP7 / 2007-2013), has successfully developed the synthesis of an innovative photocatalytic solid in powder form, which becomes activated in the presence of visible radiation.
The novelty of the proposed photocatalytic material lies on the degradation of indoor pollutants using visible light as opposed to existing products in the market which operate through the use of UV radiation.
THE SYNTHESIS OF INNOVATIVE PHOTOCATALYTIC MATERIAL
The photocatalytic material consists of titanium oxide nanoparticles (TiO2) enriched with manganese oxide (MnO2), and is suitable for the degradation of inorganic pollutants such as carbon monoxide (CO), nitrogen oxides (NOx), as well as volatile organic compounds (VOCs) such as aldehydes (formaldehyde, acetaldehyde), benzene, toluene, ethylbenzene, xylenes (BTEX), etc., using indoor like light radiation.
In order for the use of photocatalytic materials as building materials to be possible, specific coatings and overlaps with calcareous and cementitious base have been manufactured .
The result is an economical solution for combating indoor pollutants and for air quality management in general in any indoor environment (households, industrial plants, hospitals, schools, offices and agencies) by improving everyday life and contributing to the National effort of GREEN DEVELOPMENT.
PATENT & AWARDS
School of Sciences and Engineering, Department of Physics and I.E.S.L/FORTH, University of Crete
The photocatalytic material is already patented in Greece (No. 1,007,062) while an International Patent is pending from the European Patent Organization (No: PCT / EP2010 / 070872).
The team of the Transparent Conductive Materials has participated in both business missions and National & International Exhibitions.
Furthermore, the team of Transparent Conductive Materials has participated in the Competition for Applied Research and Innovation and its work excelled as one of the 10 best ideas in Applied Research in Greece.
UNIVERSITY OF CRETE
Georgios Kiriakidis, Assistant Professor of the University of Crete and the Institute of Electronic Structure & Laser, Foundation for Research & Technology-Hellas (FORTH).
FOUNDATION FOR RESEARCH & TECHNOLOGY-HELLAS (FORTH)
Vassilios Binas, Postdoctoral Researcher (Post-Doc), Institute of Electronic Structure & Laser & Laser, Foundation for Research & Technology-Hellas (FORTH).
http://www.clear-up.eu/
http://www.uoc.gr/
http://kainotomeis.gr/