MINIMIZE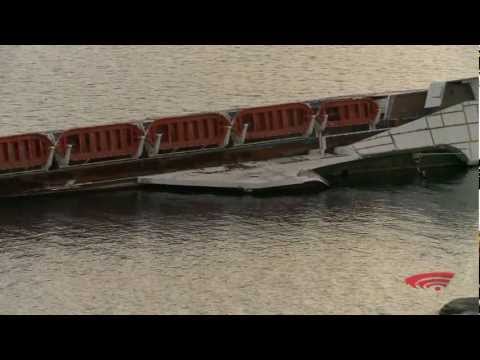 WATCH THE VIDEO
CLEANMAG®: THE MAGNETIC METHOD FOR OIL MARINE POLLUTION TREATMENT
Oil marine pollution is one of the most important long lasting problems which are responsible for major ecological disasters.
Alternative ways to address the problem include the use of floating dams, the exploitation of "skimmer" vessels for collecting oil from the sea surface, the use of microbial enzymes which are «fed» with oil (biodegradation), on-site ignition, the use of various adsorbents or chemical dispersants.
All these methods may be weather dependent or perform well mostly in small scale incidents or indicate controversial performance, or even have dangerous consequences for the environment and humans (e.g. air pollution, precipitation of heavy oil fractions etc.)
The research team of the Faculty of Engineering of TEI of Piraeus, funded by the European Program «LIFE» (LIFE99 ENV/GR/567), designed, developed and implemented a new methodology for oil marine pollution treatment, with successful results, even better than those described in the international "standards" (MARPOL 73/78) and it is environmentally friendly.
CLEANMAG® TECHNOLOGY
CleanMag® technology is based in the magnetic separation method which, compared with the traditional methods, has got a serious competitive advantage. It is an oil sorbent material which absorbs only oily substances and repels water. It has got a granular form, it is magnetic, it always floats on the water surface and it absorbs six to ten times its weight in oil.
In case of oil pollution, the material is being dispersed on the surface of the oil spill and is being collected immediately, using vessels equipped with magnetic belts or even, in special cases, fishnets of small holes.
The advantages of the method are the great potential of oil adsorption, as well as the fact that the collection can take place after several days, since the material remains always on the surface. CleanMag® method is non toxic, recyclable and environmentally friendly. It assists in almost complete oil collection, it works in all weather conditions and it reduces the time of intervention by 30%, while it is 20% - 30% cheaper than the other methods.
THE SUCCESS OF THE IDEA FOR CLEANER SEAS
Faculty of Engineering, Department of Physic Chemistry & Material Technology
TEI of Piraeus
CLEANMAG® technology is recognized and acceptable by the Greek Agency as well as by the United States Environmental Protection Agency (EPA) and has been awarded by:
1) the International Maritime Organization (IMO), 2nd award (Dubai International Maritime Awards 2005).
2) the Industrial Property Organization, Honorary Distinction 2002.
3) the "Empirikion" Institute, Physics Award 2000.
The method acquired a patent in 1997 and the team was officially invited to participate in the United Nations Environmental Program (UNEP-Environmental Showcase) in 2006, in Dubai.
TEI OF PIRAEUS
DEPARTMENT OF PHYSIC CHEMISTRY AND MATERIAL TECHNOLOGY
Dr. George Nicolaides, Dr. Panagiotis Skountzos, Dr. Gianna Atanasova - Nicolaidou, Dr. Sophia Kalogeropoulou, Dr. Andreas Papakitsos, Dr. D. Sklavenitis, Dr. Styl. Koutroumpas, Konstantinos Koulouris, George Moustakakis, George Chatzikonstantis.