MINIMIZE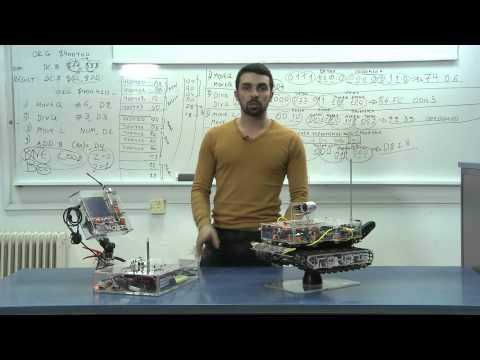 WATCH THE VIDEO
R.OX.AN.E: ROBOTIC SEARCH & RESCUE VEHICLE
There are many examples from all over the world that underline the importance of having life saving tools during emergency situations (accidents, earthquakes, fires, sinking, biochemical disasters etc).
In such critical situations, the ability to receive data from the damaged area can provide extremely important information and guide rescuers. Robotic science offers a solution through the R.OX.AN.E robot, which substitutes for human intervention in high risk situations.
"R.OX.AN.E" is the vehicle which could be an add on to the equipment of public and/or private, special response units (e.g. Fire Brigade, Civil Protection, Police, Special Disaster Responsible Units (EMAK)) and provide data assisting in making crucial decisions on time.
A robot for emergency situations
WHAT IS R.OX.AN.E
"R.OX.AN.E" is a robot which can be used to detect survivors after a natural disaster. It consists of a robotic vehicle and a control centre. It has got a night vision camera with rotation capability so that the user can drive the vehicle and have visual contact of the survivor as well as of the surrounding conditions.
Through a wireless, bidirectional sound communication system, the operator can communicate with the trapped person. Most importantly, the vehicle has got a carbon dioxide (CO2) detector in order to detect human breathing and inform the control centre.
Through a smoke detector and a fire tracing and extinguishing system, it can detect and put out a small-scale fire near the trapped person. Moreover, It has got an automatic navigation light system and GSM transmitter that enables the traceability of the vehicle positioning via satellite. The Vehicle moves with a pair of miniature tank tracks with large aperture allowing it to move with large lateral gradients without overturning. A second smaller rear pair of tracks is activated via a mercury inclinometer when the Vehicle moves uphill with slopes greater than 45°. "R.OX.AN.E" is an integrated effort to create a workable, directly exploitable Research & Rescue system.
ATHENS DIGITAL WEEK
The Athens Digital Week, is organized by the Municipality of Athens and it is the most important technological festival in the country.
In the framework of 2009 Athens Digital Week festival, the "Best Robotic Construction" competition was held with the participation of the robotic vehicle «R.OX.AN.E» from the TEI of Eastern Macedonia and Thrace. It contested among more than 20 participants from public and private institutions and won first prize escorted by 1000 euros. The award was a result of a 2-day public voting.
TEI EASTERN MACEDONIA AND THRACE
(FORMER TEI OF KAVALA)
Dr. Pogaridis Dimitrios, Professor of the Department of Computer and Informatics Engineering (former Department of Industrial Informatics, TEI of Kavala), TEI of Eastern Macedonia and Thrace.
Gabriel Karpathios, Angelos– Konstantinos Pantelis, Students of the Department of Industrial Informatics, TEI of Kavala (current name: Department of Computer and Informatics Engineering, TEI of Eastern Macedonia and Thrace).
http://www.athensdigitalweek.org
Department of computer and Informatics Engineering